Puppies are sold on limited registration from AKC or UKC.
Puppies go to new homes at 8 weeks of age, 
.All puppies go to new homes with their first set of shots and worming.

At 6 weeks  of age we start house training every puppy.

If you put any conformation or performance title on  any dog from our kennel. We  will refund $25 back for each title awarded. Just send us a win or finish photo and a copy of the award 

We offer a puppy head start training program that is available to every puppy owner. For additional information on this program you my contact use at any time.
 
 Fancy and Trip litter born         Feb 24, 2022. Ready to Go !!!!     
1 black / white male available. 
Socialized with children and other dogs. 
Rough coat. 
AKC limited registration.  
Show potential!!
Out going and great personality. 
We have dogs for every life style. Herding, agility, O.B, rally and the best family companion.
Current on shots and worming. Health guarantee. 
We have puppies that can go from family companion to performance show ring!
Deposits of $300.00 down are being taken to hold a puppy form this litter!
For more information just ask Robin 814-720-3734.   Text, call or email.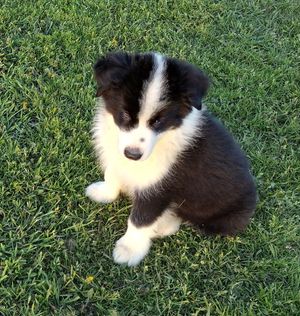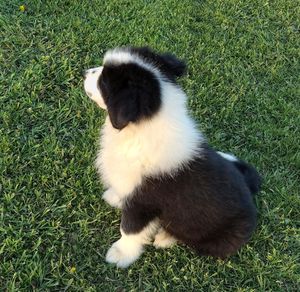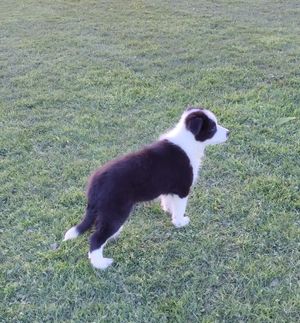 XCALIBER TRAINING CENTER
PUPPY HEAD START TRAINING
21334 Sherred Hill Rd
Venango, PA 16440
814-720-3734

Training Dates : ( start ) _________________( end )____________________ Cost : $ _______________________

Puppy owner (Please Print): _________________________________________

Address: _______________________________________________________

Phone : _________________________ Puppy name : __________________

Please mark the puppy pre-school training you would like use to work on with your puppy.

Come when called ______          Beginner crate training ______

House training ______          Lay down ______

Leash walking ______          Sit – no jump ______

Socialization ______

All though we work with your puppy two or more times daily. Your puppy will not be 100 % trained. You have to remember they are like young children. They have a short attention span. This will increase as your puppy gets older. We can only give them a good start on puppy manners and the basics. The rest will be up to you to continue training at home.

If we are working on crate or house training. You must understand you will be given a strict guide to fallow. Puppies can not hold them self for long periods of time. This will increase with age. If you fallow our guide you will be right on top of a more enjoyable relationship between you and your puppy.

If your puppy will need any vaccine boosters while here. The cost per shot is $25.00. _________

You the owner are responsible to supply feed or you will be charged $40.00 for 30 days ( $10.00 per week ).__________

Balance due at time of pick up will be $________________.


Owner signature : __________________________________________________________________

Date : ______________________________
Thank you, Robin Crum